Bristol Girl Geek Dinner #7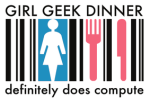 Via the medium of Twitter, the co-op's chief scribe learns that Bristol's Girl Geeks are having a get-together, a bite to eat and some food for thought in the middle of next week. The event's publicity posted on Eventbrite reads as follows:
I am very glad to announce the 7th edition of Bristol Girl Geek Dinners and also our 1 year of existence!

The Merchant Venturers School of Engineering of the University of Bristol (map) is hosting and sponsoring our evening, Wednesday 23rd of March. The evening will start at 6pm and the talk at 6.30pm.

We are very lucky to have Professor Ann Blandford from UCL has our guest speaker. She will be giving a talk on 'Designing to facilitate serendipity'.

As usual, men are welcome to the event as long as they are invited by one of our female participants.

The event is free. Please register before Monday 21st of March.