BRL hosts RoboWorld Cup 2012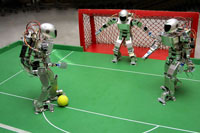 Earlier this year we reported on Bristol's successful bid to host the next FIRA RoboWorld Cup (news passim). Further details have now been published by Bristol24-7, which states that this will be the first time the event has ever been held in this country and that it will further boost Bristol's position as a leader in robotic innovation.
The cup involves robots playing football and basketball, climbing or running a marathon. However, it does have a serious side as the technology developed for the event requires expertise in mechanical, electronic and software engineering, integrating advanced AI, automated control and image processing technology.
The event will be hosted by the Bristol Robotics Laboratory (BRL) and takes place next summer, sandwiched between the Olympics and the Paralympics.
BRL is a collaborative research project by the University of Bristol and the University of the West of England whose mission is to understand the science, engineering and social role of robotics and embedded intelligence.
The Bristol event is being sponsored by the Institution of Mechanical Engineers.