Next week Bath gets illuminated
Yesterday the lab was graced by a visit from Tarim of Bristol Hackspace. While he was here, Tarim told of about Illuminate Bath 2012.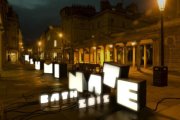 Illuminate Bath runs from Wednesday 25th to Saturday 28th January 2012, bringing beautiful and engaging projected artworks to the city centre. Banishing the gloom of January's long evenings, this 'festival of light' will include a number of original installations in public spaces, all of which will be completely free to explore.
Illuminate Bath forms part of the London 2012 Cultural Olympiad and is organised by Bath Spa University and RELAYS (Regional Educational Legacy in Arts and Youth Sports), a London Olympics legacy project based in universities across south west England.
Tarim will be taking his interactive spotlight east to participate in Illuminate Bath. Why not pop along and say hello if you're in the area?