MyFi comes to Knowle West Media Centre
Would you connect your body to a wireless network?
Next Wednesday, 26th September, Knowle West Media Centre and Bristol University's Professor Ian Craddock put on MyFi, an evening exploring future healthcare technologies in a relaxed, informal atmosphere. It's free and open to anyone with an interest in science, technology and healthcare. You don't need to be a scientist to enjoy the evening: just come with an open and enquiring mind, not forgetting some spare change for refreshments.
The event will run from 6.30 to 8.30 pm at Knowle West Media Centre, Leinster Avenue, Bristol, BS4 1NL (map) and Prof. Ian Craddock will address questions such as 'Why might we welcome microchips into our own bodies?' and 'One day might we not have a choice?', before taking questions from the floor after a refreshment break.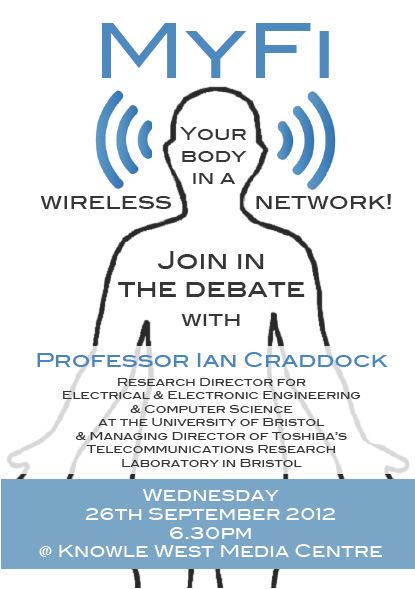 There's no need to book for the event, but if you need more information, call Knowle West Media Centre on 0117 903 0444.