Drowning in data
Bath University has published its programme of forthcoming public lectures.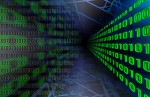 Of these, one in particular caught our eye. Entitled "Drowning in data: who and what can we trust?", it's being given by Professor David Rhind from 17:30-18:45 on Wednesday, 2nd April 2014 in the Chancellors' Building, Lecture Theatre 1.10.
It has been estimated that in the years 2010 to 2012, as much data and information was collected as in the whole of preceding human history. Fuelled by rapid changes in technology, information is used, modified and re-used and abused with fundamental implications for democracy, government institutions and policies, publishers, libraries, media organisations, personal privacy and much else. The devil is often in the detail – how information is collected, classified, organised, analysed and made available influences what we are told. So how do we know what to believe?
Professor Rhind is Chairman of the Nuffield Foundation and of the Government's Advisory Panel for Public Sector Information, as well as Deputy Chairman of the UK Statistics Authority.
For full details and booking, see Bath University's dedicated page.