Free public lecture at Bristol Uni for Ada Lovelace Day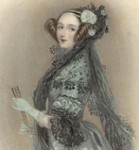 Tomorrow, 14th October, is Ada Lovelace Day, an annual an international celebration of the achievements of women in science, technology, engineering and maths.
As part of the celebrations, Bristol University is organising a free public lecture focussing on Ada Lovelace's life and pioneering work.
Ada Lovelace – the first programmer' by Professor Philipp Welch from the School of Mathematics, starts at 1.00 pm on Tuesday 14th October in the Merchant Venturers Building.
In addition, Bristol University's Computer Sciences Society is holding a special event on Wednesday 15th October with talks from seven speakers to showcase the careers of women in computing and engineering and discuss the challenges women have to overcome. The Computer Sciences Society's showcase begins at 1.00 pm on Wednesday 15th October in the Merchant Venturers Building.
Both events are free to attend and no booking is required. For more information visit the University's Ada Lovelace events page.
Ada Lovelace was the daughter of the 'mad, bad and dangerous to know' Lord Byron and died in 1852. Her work with Charles Babbage on the 'Analytical Engine' makes her an important figure in the early development of computer technology.
Ada's mathematical notes include what is widely accepted as the first algorithm intended to be executed by a machine. Babbage was so impressed with her talents that he called her the 'Enchantress of Numbers'.