City of Light makes enlightened move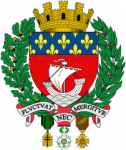 The City of Paris has become a member of April, the leading French free and open source advocacy organisation. Making the announcement, April reported that the council wants to intensify its commitment in favour of free and open source.
Following a resolution in December 2014 from the council's Green group and subsequent negotiations conducted by Emmanuel Grégoire, the Assistant Mayor in charge of administrative modernisation, the city council consented had endorsed the city's membership of April.
A city council press release points out that "Paris is already very involved in the development, promotion and defence of free software. For its own use, it already avails itself of many free tools: 60% of its servers run GNU/Linux. The city is also developing software for [such tasks as] the drafting and awarding of public contracts, managing city council meetings, professional competitions and examinations which it then donates into the public realm." It has also developed the Lutèce free software package which runs its website.
Emmanuel Grégoire stated, "I am very please that our free Lutèce software is now being widely used by major institutions, in particular the City of Marseille and Météo France," and stressed that "Paris is going to intensify its commitment to free software within April."
For its part April is pleased to have the City of Paris amongst its 4,200 members. "This membership not only confirms the commitment of the City of Paris to free software, but also the fact that it acknowledges the interest in strengthening the free software movement in which April has been playing a major role since 1996," declared April president Jean-Christophe Becquet.
And the City of Light? The region was occupied by a tribe called the Parisii when the Romans conquered the Paris basin in 52 BC. After making the Ile de la Cité (where Notre Dame now stands) a garrison camp, the Romans began extending their settlement in a more permanent way to Paris' Left Bank. The Gallo-Roman town was originally called Lutetia ("City of Light") and more fully, Lutetia Parisiorum ("Lutetia of the Parisii").