Bristol University Computer Science students win ESA app competition
An app designed by Computer Science students at the University of Bristol has won a top prize, University Business reports today.
The European Space Agency App Camp was held in Barcelona from 25th February to 4th March, attracting more than 170 participants from 30 countries. The camp's purpose was to find innovative ways to use earth observation data to address some of the world's greatest problems.
One of the two winning teams of the camp came from the University of Bristol team, made up of Anda Truta, Alex Dantis, Alex Dumitrescu and Julian Laval, which created FarmIQ – a crop monitoring and management tool which can analyse data to suggest field optimisation and identify problems before they happen.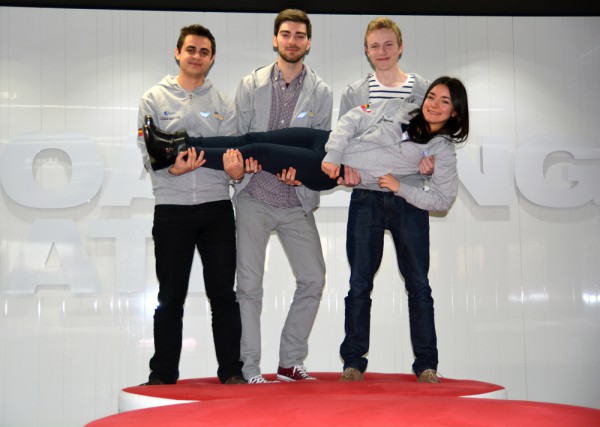 To qualify for the ESA App Camp, the Bristol University four computer science students first of all had to win the local pre-selection Appathon in Harwell. They are focusing on analysing crowd-sourced information to develop predictive agricultural models. Offered in a product-as-a-service (PaaS) format, their app harnesses the power of Earth observation and agricultural big data to provide state-of-the-art crop monitoring, predictive monitoring (including suggestions on field optimisations), and advance warnings regarding potential problems.
In Barcelona the Bristol team faced tough competition from teams of students, researchers and programmers representing Germany, the Netherlands, Italy, Portugal and Finland.
In addition to a cash prize of €5,000, the winning Bristol team has earned the opportunity to work with one of the ESA's Business Incubation Centres, as well as SAP's Startup Focus Program should they wish to take their idea further.
Commenting on the win, 2nd year computer science student Julian Laval declared: "Being surrounded by like-minded space enthusiasts and entrepreneurs, as well as being able to converse with experts in the field at the drop of a hat was a phenomenal experience. The rush of winning was also rather fantastic."
Alex Dumitrescu added: "Our ambition is to enhance food security and optimize farming on a global scale. On top of providing an unparalleled crop-monitoring experience to farmers using the latest and greatest satellite technologies, we're looking towards the future and want to be the first to build and deploy predictive monitoring that identifies potential problems before they happen. Certainly not an easy feat, yet an incredible vision that we want to see to fruition."
The other winners were a team of Finnish developers comprising Aarni Koskela, Matti Määttänen, Otso Rasimus, and Henrik Skogström with AGRAI, a personal farming solution for mobile phones. The app simplifies farmers' work by advising them on their daily routines – such as when to fertilise or harvest – and issuing warnings on imminent anomalies like pests, drought, or frost.