We've got backbone!
After lengthy installation, testing and all the bureaucratic hoop-jumping with Ofcom and other bodies with the kind assistance of Westcom, Bristol Wireless' 5.8 GHz backbone infrastructure has completed all its testing and legal procedures and is now live.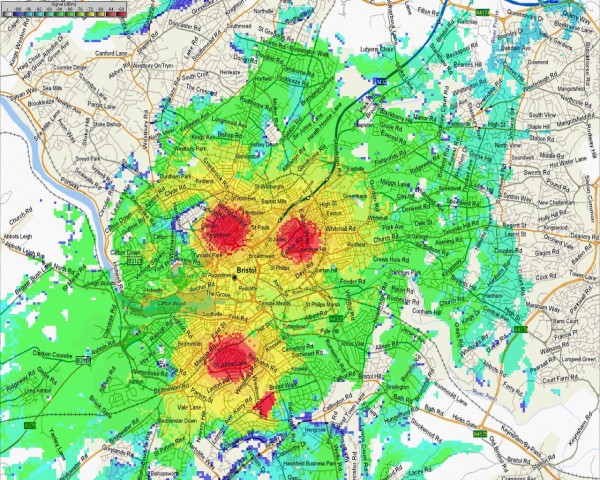 As you can see from the above map, we have wide coverage of the central Bristol area with our 5.8 & 2.4 GHz infrastructure in Easton, Kingsdown and Windmill Hill. The Knowle West Web network (shown by the small red area near the foot of the map) is also linked into the Bristol Wireless network, which in turn connects to the BMEX network at the University of Bristol's Merchant Venturers Building.
A quick bit of calculation with an OS map reveals that our rooftop level access gives Bristol Wireless network coverage of approx. 15 sq. km. To the best of our knowledge, this gives us the largest community wireless network in the country… unless, of course, you know differently, in which case, please contact us.