Farewell to Matt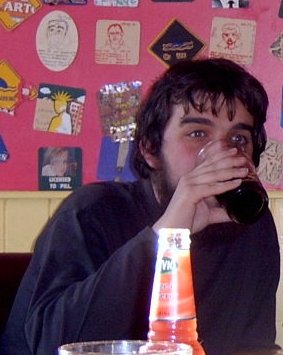 At the start of the weekend Matt Toseland sent a message to our general list announcing he wouldn't be able to make our monthly meeting in November. Apart from being a bit early, there's nothing unusual in apologies from people unable to attend meetings. However, Matt has a good excuse: he's moving to Scarborough (in God's own county according to the locals – Ed. 😉) – a slightly longer walk to the lab than his normal jaunt from Fishponds.
Back when Bristol Wireless was established in 2002, Matt was one of the first people to offer help and over the years his contributions have been invaluable, helping to keep the organisation focussed and true to its original principles.
When not acting as Bristol Wireless' conscience, Matt works as a developer on the Freenet Project, with which he's been involved for many years. Freenet is free software which lets users publish and obtain information on the internet without fear of censorship, which is very useful if one happens to live under a repressive regime or just wants to preserve one's anonymity.
Although he's off to t'other side of the country, we're pleased that Matt will be remaining on the mailing list and retaining his membership of the co-operative.
It only remains to say: "Bon voyage Matt; please stay in touch via the list and drop in when you can on IRC, and thanks for all you've done to date and we all wish you well for the future."