Where Bristol Wireless leads, Tesco follows
Following on from Bristol Wireless' sale of internet-ready Linux computers for £50, news reaches the lab that well-known supermarket chain Tesco, once described by a TV comedy programme as "the world's first retail state", has now commenced sales of entry level PCs with Ubuntu Linux pre-installed.
Tesco's Linux machines cost slightly more than ours do, but two models – one with an Intel Celeron processor, the other with an AMD processor – are available from the retail giant at £139.93 and £189.93 respectively. Both are base units and come minus monitors. However, Clubcard holders will also qualify for points on these purchases.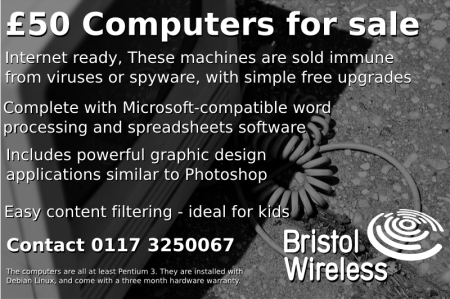 However, if you want to support your local community wireless co-operative, Bristol Wireless is still selling internet-ready Linux machines for £50 if you don't mind a refurbished machine: you may not get Clubcard points with our machines, but you do get a monitor. 😉 Please contact us for details.