A visit from Tim Erickson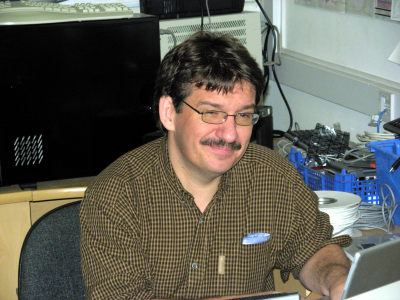 On Tuesday 6th November, Bristol Wireless received a visit from Tim Erickson of E-Democracy.org, who have been helping encourage participation in the democratic process since 1994. We first me Tim on his initial visit to Bristol 2 years ago and were responsible for introducing him to West Country cider. 🙂
Tim called by with MJ Ray, a friend of his from Turo Technology LLP, another co-operative (like Bristol Wireless) based in Weston Super Mare. Local Bristol area readers may know MJ, as he does attend BBLUG sessions.
We were very pleased to see how Tim's IT skills had improved since his last visit – he's now blogging and doing audio and video recording. As part of an organisation that encourages and trains people in using such tools to improve their skills and get involved in their communities, it's only right and proper that the leading advocates should know what to do with them too.
As proof of his newly-acquired skills, he recorded a 10-minute interview with Rich Higgs and your 'umble scribe.
Tim has recorded his visit on the E-Democracy.org project blog. His piece on Bristol Wireless can be read here, whilst those of you who are brave may like to listen to the interview.