Watch a 25-year old GNU, Fry on camera!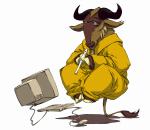 Stephen Fry, well-known modern renaissance man, TV and radio personality and lesser known free software advocate, has produced a video to celebrate the 25th anniversary of the foundation of the GNU Project by Richard Stallman.
In the video, Fry explains why free software (as used by Bristol Wireless. Ed.) is important, both to him and for society in general, like good science. Indeed he believes proprietary software licensing is akin to bad science, i.e. bad for science specifically and the wider community too.
Twenty-five years ago, the GNU Project started with a specific overall goal: to create a free software operating system, the GNU System. The scope of GNU is far-reaching: any job that computer users want to do should be feasible with free software.
Here at Bristol Wireless, we too would like to join Stephen in wishing GNU a many happy returns for its 25th birthday. Without the efforts of GNU and other members of the free software community, we would not have been able to achieve all that we have so far.
Stephen's video can be watched at or downloaded from GNU.