LTSP help wanted in Senegal
Every now and again one's previous work comes back up again to haunt – just like the previous night's dodgy takeaway meal.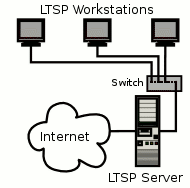 This has just happened to Bails, one of Bristol Wireless' longest serving volunteers, who yesterday posted the following message to the BW mailing list:
Last year I was requested to put together an LSTP server and several clients for a friend. These were subsequently shipped out to Senegal. They have now arrived (12 months later) after the hassle of getting them through customs (via a neighbouring country).

We set the system up so it should JFW. But now the computers have arrived in Senegal, they have realised they have no technicians who understand Linux or LTSP.

If anyone is in that region and could help would they please reply to this thread and I will put them in contact with the people on the ground.

Thanks

Bails
For the Francophones out there, here's a French translation of Bails' message:
L'année dernière j'ai préparé un serveur LSTP (Linux Terminal Server Project) et plusieurs clients légers pour un ami. Ceux-ci ont été ultérieurment expédiés au Sénégal.

Ils sont maintenant arrivés (12 mois plus tard) après les ennuis de les dédouaner (par l'intermédiaire d'un pays tiers voisin). Nous avons installé le système d'exploitation et le serveur et les clients doivent ainsi fonctionner sans aucune intervention ou configuration ultérieures. Depuis l'arrivée des ordinateurs au Sénégal, on s'est rendu compte qu'il n'y a aucun technicien qui comprend Linux ou LTSP.

Si quelqu'un dans la région peut offrir de l'aide, vous êtes priés de répondre à ce fil et je vous mettrai en contact avec les personnes sur site.

Merci à l'avance
Can you help Bails out here? If so, can you please subscribe and respond to our mailing list (details here).