Hardware recycling – the UK's rubbish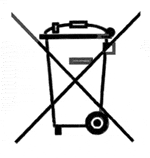 vnunet.com reports that almost 2 years after the WEEE disposal rules came into force, the UK is still lagging behind the rest of Western Europe in recycling electrical goods.
Research by Dell found that 13 per cent of UK consumers do not recycle electrical goods at all – more than four times the figure in Germany.
Moreover, awareness of legislation such as the WEEE Directive, which requires manufacturers to offer hardware take-back schemes, is lower in the UK than anywhere else.
However, the survey suggests there is a desire for more electrical recycling services ­ since over half of those polled recycle everything they can. Nevertheless, Dell's has found that although take-back schemes are available, they are not being used.
The European Commission estimates that across the EU only about one-third of electrical and electronic waste is treated in accordance with the WEEE Directive and that the illegal trade in waste continues from all Member States.
Of course, before sending computer hardware to recyclers such as our friends Byteback, extending the life of equipment should be considered. At Bristol Wireless we've found that most redundant computer hardware being junked by companies* is quite capable of a new lease of life: we take these unwanted computers, refurbish them, install Linux and sell them very cheaply.
* We've found most companies/organisations have a 3 year replacement cycle; the better ones renew stuff over 5 years.