American readers – put a pengiun on your plastic
Regular readers will be aware of the existence of Tux, the Linux kernel mascot (news passim) and now if you live in the United States, you'll be able to show your commitment to free and open source software by carrying a Tux-branded Visa credit card, courtesy of the Linux Foundation, the non-profit organisation dedicated to accelerating the growth of Linux.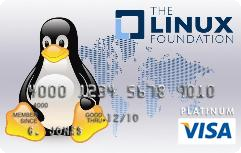 The Linux Foundation says it "is pleased to offer a Linux-branded affinity card for those who want to support the Linux Foundation's activities while expressing their commitment to Linux. The Linux-branded credit card is an easy way for anyone to contribute to the growth of Linux and identify themselves as supporters of the community by carrying Tux in their pocket."
For every card activation, the Linux Foundation will receive $50, as well as a percentage of every purchase made with the credit card. All funds via the programme will go directly towards providing community technical events and travel grants for open source community members to accelerate Linux innovation.
Visit the Linux Foundation for details.