Greyhound comes with wi-fi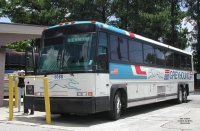 Every couple of years or so, just like the occasional omnibuses rumoured (and in some circles believed. Ed.) to provide a service to the travelling public, trundles up a story about wi-fi being implemented on public transport services. The last one of these that your correspondent can recall off the top of his head involved National Express coaches in was back in 2006 (news passim). However, much like the physical buses to which they refer, these stories disappear over the horizon and are never seen again. 🙂 (I just hope the same thing doesn't happen to John's Linux Lounge bus. Ed.)
All this leaves your 'umble scribe wondering if the same will happen to the latest of the crop. Earlier today news reached the lab that First Group, the same folks alleged to provide public transport services in Bristol by both road and rail, are to import Greyhound buses as First establishes a new coach network to compete with rivals National Express and Stagecoach.
According to Transport Briefing:
The first UK Greyhound coaches will run between London Victoria and Portsmouth and Southampton with services scheduled to launch on September 14. First says it hopes to roll-out further routes in 2010.
The article further states:
The Greyhound UK coaches will have leather seating, free wi-fi, power sockets, air-conditioning and complimentary newspapers.
Read the full article on Transport Briefing.
Hat tip: Chris Hutt