1 roll-up keyboard, 2 ukeleles and 3 speakers – it's Connecting Bristol's Green, Open and Social event
Earlier this week on Monday, Bristol's Watershed ("home of the laptoperati" – event quote. Ed.) played host on Monday evening to Connecting Bristol's Green Open & Social event. The event was so well attended there was a waiting list for tickets due to over-subscription.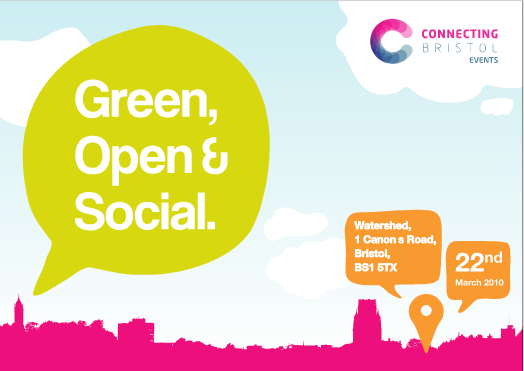 As with many Connecting Bristol events, it was also streamed live over the internet and participants not in the building could submit questions and comments via Twitter too using the hashtag #gosbr. Folks in the event were also tweeting away as well.
The audience brought together Bristol's IT and green communities, as well as representatives from industry, the public and voluntary sectors.
Connecting Bristol's Stephen Hilton gave a brief introduction to the formal part of the evening, after which we moved swiftly on to the green element, featuring Chris Tuppen, Chief Sustainability Officer, BT Group. Chris outlined the change that would be required to hit CO2 emission reduction targets and what this would imply: greatly increased use of renewables, smarter use of energy all round (enabled in part by ICT) and what this would mean at work and at home.
Second on the agenda was the open element and the lectern was occupied Mark Taylor, CEO of open source and Linux specialists Sirius Corporation. Mark spoke without notes (and no death by PowerPoint either – Ed.🙂 ), outlining why open source software, open standards and open data are vital and interconnected, as well as why proprietary software is an anomaly compared with other fields of activity: after all, one wouldn't expect an engineer not to disclose to the client the reasons why a bridge stays up and doesn't fall down…
The social strand came courtesy of the third and final speaker, Steve Virgin of Wikimedia UK, is the local UK Wikimedia chapter. Steve outlined the aims of Wikimedia, quoting Wikipedia co-founder Jimmy Wales: "Imagine a world in which every single person on the planet is given free access to the sum of all human knowledge. That's what we're doing." He then continued with a brief outline of Wikimedia's products and tools – all free and open source and freely accessible to all to use and contribute.
Finally, we come to the musical instruments mentioned in the headline. The formal proceedings concluded with a performance piece, featuring the characters Green, Open and Social (should that be anthropomorphic personifications? Ed.) taking to the stage: lots of gags ("Bristol – gateway to Ikea"), 4 songs and a fine way to round off proceedings.
As a Bristol Wireless bod, it was most heartening that our little co-operative got mentioned 3 times from the stage: by Steve Virgin for our use of MediaWiki; the performers in their script; and finally that old digital inclusion story from Princess Royal Gardens about the elderly resident and online betting (as that's now being quoted by the world/dog and even government ministers, shouldn't we get a royalty? Ed.).
The event itself concluded a while after its formal part, following a drinks reception kindly hosted by Sirius (cheers Mark! 😀 ).