Vintage Computer Festival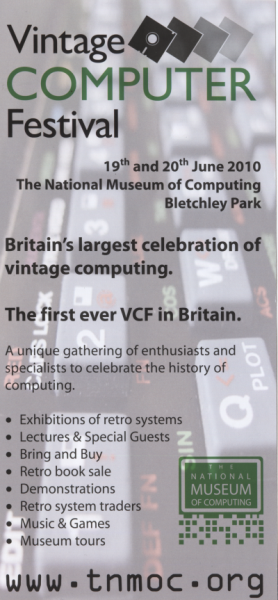 On 19th and 20th June this year, Bletchley Park, former home of Blighty's World War 2 code breakers (when it was known as Station X. Ed.) and now the home of the National Museum of Computing, will be hosting Britain's first ever Vintage Computer Festival (VCF).
The event is being billed as a unique gathering of enthusiasts and specialists to celebrate the history of computing, whilst the publicity promises:
Exhibitions of retro systems;
Lectures and special guests;
Bring and buy;
Demonstrations;
Retro systems traders;
Music and games; and
Museum tours.
Our old friend John Honniball is already preparing, judging from this tweet on his Twitter feed (which I've edited slightly for the sake of clarity. Ed.) earlier today:
Which reminds me, I must clear out a few things for the Bring & Buy at the Vintage Computer Festival. Probably more like Bring & Give Away for me
VCF will be open from 10:00 am to 5:00 pm on both days, whilst admission to Bletchley Park (map) will set you back 10 English pounds (although concessionary and family tickets are also available).
More information on VCF is available on the National Museum of Computing website.