Last day to register for BarnCamp 2010
Today is the last day to sign up for BarnCamp 2010, which will be staged in the beautiful Wye Valley from 11th to 13th June 2010, courtesy of Hacktionlab, a regular convergence space where activists interested and/or working in the areas of alternative media, renewable energy, online video distribution, free software or any other form of activism using technology can get together and plan how (or not) to harness the technology better to support grass roots social movements.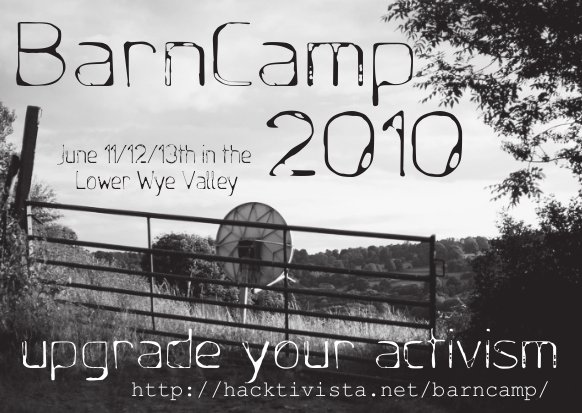 Barncamp promises fantastic tech in the sun (someone's tempting the weather gods… Ed. 🙂 ), but advance registration is essential and will end on 1st June. Depending on whether you pay in advance (£25) or on the gate (£35), the cost of this year's BarnCamp will vary. The fee includes meals, camping, all the entertainment, the planned workshops and the BarnCamp sessions.
This will be the third rural that has been put on in recent years and Bristol Wireless volunteers are again involved in organising and setting up the event, which has just reminded your correspondent he needs to find some white paint for doing signs…