Software Freedom Day – 18th September 2010
Tomorrow, 18th September 2010, is Software Freedom Day. Software Freedom Day (SFD) was started by a group of FOSS believers, Matt Oquist, Henrik Omma and Phil Harper with the idea of distributing The OpenCD to everyone.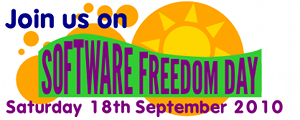 Software Freedom Day is an international event with hundreds of teams from all around the world running local events to help their local communities understand Software Freedom. To find the nearest event to where you are, try consulting the events map.
Here at Bristol Wireless we wouldn't be able to work – indeed we would not exist – without the wonderful, comprehensive range of free and open source software out there. For every piece of proprietary software of which you can think, there's a free/open source equivalent that works just as well – and often better.
For more information, visit the Software Freedom Day website.