Vicki Rooms become Wiki Rooms
For a couple of hours earlier today, Bristol's Victoria Rooms, a part of the University of Bristol, today became the Wikitoria Rooms, courtesy of the presence of Jimmy Wales, founder of Wikipedia, who was in Bristol as part of Wikipedia's 10th anniversary celebrations (Wikipedia was actually launched on 15th January 2001. How the world has changed. Ed.).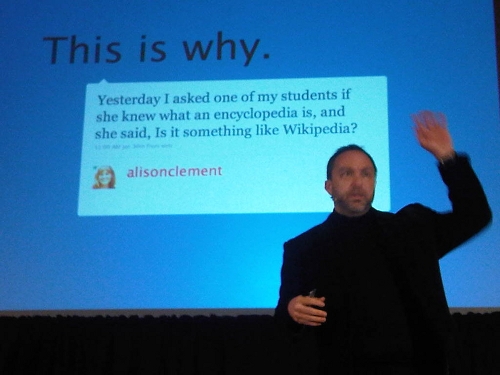 Jimmy's talk started with the genesis of Wikipedia and how it grew out of the open source and free software movement, including the now infamous free as in freedom (as opposed to beer) quote, and how it has grown over the years to become the fifth most visited site on the internet, based on the premise of free knowledge for all.
Some interesting facts emerged regarding the profile of the average 'Wikipedian', as contributors and authors are known. They are predominantly male (87%), with an average age of 26 and they have twice the general population's average percentage of PhDs. National differences in content reading also emerged from Jimmy's talk. For instance, Germans read lots about geography, whilst the French and Spanish read less about sex than other nations, a point on which Jimmy opined that they were probably busier indulging in it than reading about it. 😉
Looking at recent developments, Jimmy turned to such projects as Wikia – a community site to which anyone can contribute their knowledge on specific topics (or indeed start a wiki on a new topic). As an example, he quoted Lostpedia, a wiki devoted to the US TV series, Lost.
Jimmy's talk concluded with future directions and prospects and these were reflected in the questions from the floor and those submitted online. Perhaps the most interesting of these was one about the knotty subject of net neutrality. Jimmy conceded his position on this was "complicated", but concluded by inferring that the control exerted on access to information, such as the Apple Apps model for smartphones represented more of a threat to "diverse and open ecosystems".
Finally, the event was streamed live and attracted an online audience of some 3,000 people (Is this a record for a Bristol webcast? Ed.).
All in all, an enjoyable and inspiring event and one which will live in his memory for a long time by your 'umble scribe, who was conscripted to assist with covering the event in brief bursts of 140 characters on Twitter.