Inside the Bristol Wiki Academy

Bristol Wireless has been using wikis for years to document and plan the development of the co-operative and its work, so we were delighted to accept an invitation to attend the Bristol Wiki Academy at the weekend (news passim). To the best of our knowledge, this was the first Wiki Academy to be organised in the UK.
The day started with a welcome by Wikimedia UK Director Steve Virgin, swiftly followed with a brief introduction to Wikimedia by Martin Poulter. The 3 outstanding facts your 'umble scribe remembers are firstly that the languages with the most Wikipedia articles are English, German, French, Italian and Polish: secondly, Wikimedia is now producing articles on CD-ROM and in print for those without computers and/or internet access and finally that Wikimedia Commons has more pictures of the male reproductive organs than it can possibly use and wants no more!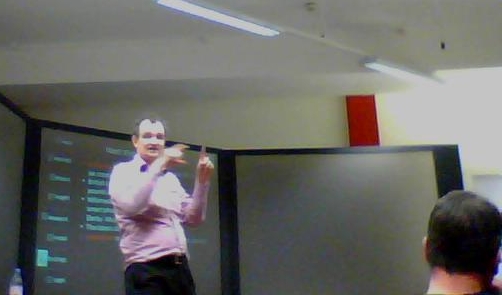 Martin was followed by visiting American Alex Stinson with an audience excercise on the Five Pillars of Wikipedia, i.e.:
Wikipedia is an online encyclopedia;
Wikipedia has a neutral point of view;
Wikipedia is free content;
Wikipedians should interact in a respectful and civil manner;
Wikipedia does not have firm rules.
Next at the front of the class was Rod Ward with an excellent talk on 'Improving Wikipedia', taking as an example the journey of the article on Somerset's Sweet Track ancient trackway over the years from a stub to featured article, illustrating the rigour of Wikipedia's peer review process.
Before the lunch break came 2 more presentations, firstly from Martin on Wikipedia as a social site, who stressed that all input has a value, however wacky it may first seem and then William Avery on sharing images and other content, including a demonstration of uploading Wikimedia Commons. William also discussed acceptable types of licensing (e.g. Creative Commons and the GNU Free Documentation License).
Alex again took centre stage after lunch talking about maximising Wikipedia's educational benefit, outlining the success of the US Campus Ambassador programme. Ambassadors can also be city ambassadors or community ambassadors and Wikimedia UK is backing the launch of a UK Campus Ambassador programme.
Martin Poulter then appeared at the front once more to explain how Wikipedia deals with vandalism and ensures that articles have a neutral point of view.
After Martin, the floor was thrown open to your correspondent who gave an introduction to MediaWiki, the free software that runs Wikipedia, and how it can be used as a tool for collaborative working by organisations of all sizes and types, from corporations to small voluntary groups.
Only 2 more presentations then remained on the bill: the hard-working Alex again on content partnerships and Roger Bamkin on Wikipedia in public spaces. Roger focussed on a project with Derby Museum that adds QR codes for exhibits. Visitors with smartphones can scan the QR code and get a link straight to the relevant Wikipedia article – an excellent addendum to conventional museum exhibit labels.
Matt Jukes, who also attended the Wiki Academy, has also written an excellent post on the event.
Finally, our thanks are due to Martin Poulter and Steve Virgin and any others for all their work in putting the event together; we Bristol Wireless folk were all fired up afterwards. 🙂