Herefordshire Open Source Day
It's 8.30 on the morning of Saturday 26th March and your 'umble scribe is standing on a sunny Stapleton Road station waiting for the train. One and a half hours later, he alights at an overcast and chillier Hereford station and goes ambling into town in search of 2 things: firstly, breakfast and secondly, All Saints Church – the venue for this year's Open Source Day organised by the Herefordshire Linux Users Group.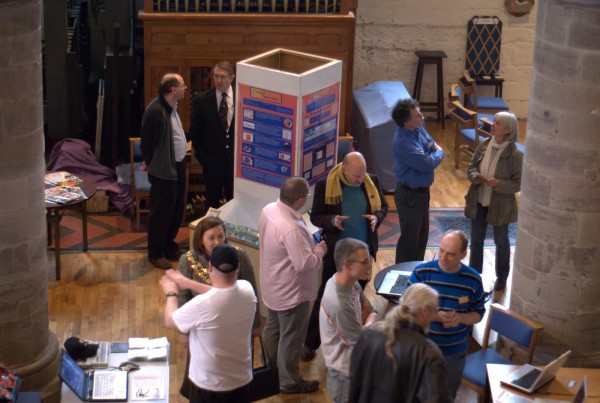 Even for a stranger such as me there was plenty to see and do, including live CDs for people to take away and try/install; indeed there were even CDs of open source software available for Windows for those who didn't want to take the plunge with the Penguinistas. Plenty of demonstrations of open source and free software were on display, ranging from the latest games (great for attracting younger potential users. Ed.) to such specialised implementations as Vinux – a special remix of Ubuntu specially designed for use by the blind and visually impaired. Tony Sales, one of the developers of Vinux, works at the Royal National College for the Blind in Hereford.
Also present was the Mayor of Hereford, Cllr. Anna Toon, complete with chain of office, who presented the Herefordshire Open Source Star Awards, of which there were three. The lucky winners were:
the award for work in administration went to Dr. Ashley Tucker and the HCC/Herefordshire NHS WIMS team for beginning the process of adoption of Open Source solutions in Hereford County Council;
the award for the promotion of open source in the business sector went to Heather and Kevin Dontenville of OpenSure; and
the award for outstanding personal achievement went to Tony Sales for the continuing development of the Vinux project – empowering the visually impaired around the world through free accessible software.
After the presentations came the day's keynote address given by none other than Bristol City Council's Dr. Mark Wright, the executive councillor in charge of efficiency and value for money. Mark's also a Ubuntu user, a keen advocate of open source and took as the topic for his address the experiences of Bristol City Council in trying to implement open source. This could be summarised in a couple of sentences ("one step forward, two steps backward". Ed.). Firstly, Bristol was a pioneer some 5 years ago when it opted to deploy Star Office throughout the council. It is still a pioneer as hardly any other local authority in the country is interested in deploying open source. Secondly, this situation is not helped by central government requiring information from local authorities in proprietary formats and the necessarily specialist nature of some of the software used by the council; there's no open source council tax collection software available, for example.
All told, it was a worthwhile day away. It was grand to see a different LUG in action and I got to talk with people about, inter alia, the problems of getting decent broadband in rural area. Moreover, there was lots of interest in open source from potential users, who ranged from farmers to political activists, small businesses to home users. On a personal note, it was also great to meet Kevin from OpenSure in the flesh having been mutual followers of each other on Twitter for some time. In addition, there's also a report of the day on the OpenSure blog.
Finally, my sincere thanks to all members of the Herefordshire LUG for their hospitality on the day. Cheers folks! 🙂