Hotot Twitter client
People who know BW's chief scribe know he's a great fan of Twitter, the social networking and microblogging website. Over the past couple of years, he's tried out various Linux Twitter clients, ranging from quick and dirty Python scripts for tweeting from the command line, via your conventional web browsers to dedicated social networking packages, such as Gwibber, which comes installed as standard with Ubuntu. So he was quite interested in trying out Hotot, one of the recent Google Summer of Code projects.
Installing Hotot is comparatively easy if you're at ease with the command line. The instructions are listed below for Ubuntu. Instructions for other distros are available via the developer's site. 🙂

$ sudo add-apt-repository ppa:hotot-team
$ sudo apt-get update
$ sudo apt-get install hotot

Once installed and running, Hotot seems to have some exceedingly useful features: geolocation via Google Maps, image and video preview, discussion threading (my favourite!), search, etc. What is more, it seems by default to refresh very regularly (putting a little pop-up on the screen, very handy if you're busy in another workspace), something I never seemed to be able to achieve with Gwibber despite setting a 1 minute refresh interval in that application's preferences.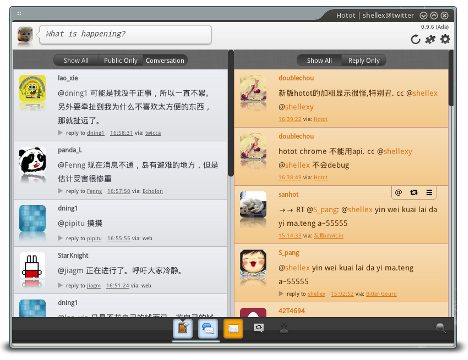 Hotot is still in its very early development stages; the version number I'm running – codenamed Ada – is only 0.9.6. However, this user is impressed with it and, as development continues, I believe Hotot is going to be a great application.
Finally, my thanks are due to Alan Lord for putting me onto Hotot in the first place. 🙂