It's not cricket, it's #twicket!
The Lancashire village of Wray (population approx. 500) became a true global village on Easter Monday with a world first – the live streaming of video and audio coverage of a village cricket match over the internet.
The protagonists were Wray CC* vs the Rest of the World. The result: Wray won by 1 run, although they lost the subsequent tug-of-war, which was also streamed.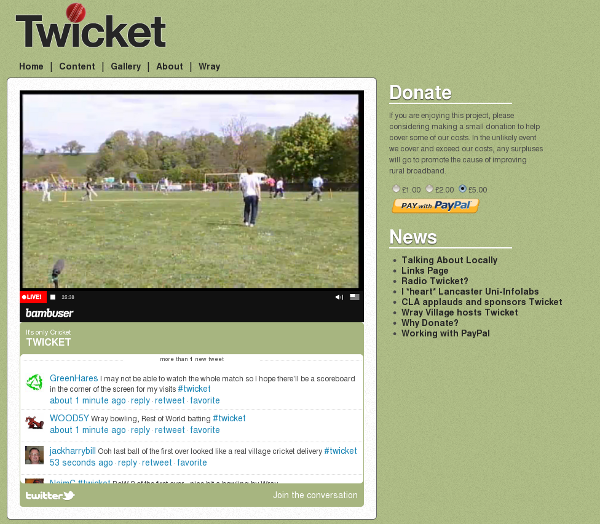 At its peak the online audience totalled some 2,700 people spread around the world from north of Aberdeen to the Antipodes, who were not only watching but providing feedback to the production team in Wray via Twitter using the #twicket hashtag.
The cricket match itself featured a couple of unusual moments: a pitch invasion by a 15ft tall 'Aunt Sally' scarecrow and an incoming batsman and the scarecrow both given a yellow card apiece by the umpire. however, the star of the show was local lady Brenda Mickle, who provided the commentary on the video stream between sips of Pimms and was an instant hit with the online audience (Aggers and the TMS team had better watch out! Ed.).
How was the streaming possible? Wray has a 30 Mbps symmetric wireless broadband network maintained by Lancaster University, with meshing to give villagers and visitors wireless access to the internet. It's one of only 3 villages in the UK to boast a symmetric network.
In addition to the video stream, a separate audio commentary was streamed by Radio Youthology, who used a combination of iPhone and Android smartphone apps.
The video stream itself came from 3 cameras provided by Aquila TV, plus boundary and commentary microphones.
All told, it was a wonderful way to spend an Easter Monday and full credit is due to the main protagonists, Cyberdoyle and John Popham, who this weekend gave a good practical demonstration of how good (particularly symmetric) connectivity anywhere can help people become contributors rather than mere consumers. Indeed, your correspondent was engaged in such a discussion with a friend online as the cricket reached its climax.
The media from yesterday are being archived on the Twicket site, for those of you who were unable to experience it live.
* = We're reliably informed that Wray CC only play 2 matches a year, one of them on Easter Monday.