Digital doings down the Counts Louse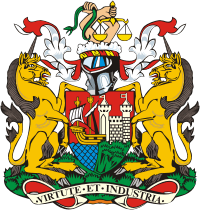 Bristol is a city with a long history, part of which is reflected in its civic institutions. One of these is the office of mayor. Bristol first had a mayor as long ago as 1216. In 1899 the plain old vanilla mayor was replaced by the grander sounding one of Lord Mayor, which the city has had ever since.
Anyway, as of recently the new Lord Mayor of Bristol, Cllr Geoffrey Gollop, not only has to contend with tricorn hat, scarlet robes and chain of office, he's got a blog to look after too. The first post, entitled 'I'll soon be blogging' is already up on http://bristollordmayor.wordpress.com/ and states:
The 2011-12 Lord Mayor of Bristol will be using social media in order to better promote his charitable activities, events and to allow this traditional office to reach out and engage with more people.
But that's not all. His Worship the Lord Mayor has a Twitter account too: you can follow him on http://twitter.com/#!/brislordmayor (do I detect the influence of Connecting Bristol behind these moves? Ed.).
This afternoon (Tuesday 17th May) the council meeting – including the Mayor making ceremony – will be webcast live from the council chamber down the Counts Louse, so you'll be able to watch the fun whether you're in Bart Nil or Bangkok, provided you have a network connection.
By the way, should Cllr Gallop need any assistance with using either WordPress or Twitter, the chief scribe would be happy to provide some tuition, subject to the usual contribution to Bristol Wireless funds. 🙂