Bristol holds its second Wiki Academy

As previously announced, the second run of the Bristol Wiki Academy took place on Monday this week up at the BBC's Broadcasting House in Bristol (news passim).
We got off to an early(ish) start at 10.30 am with a round of introductions, followed by a brief presentation on Wikipedia's mission of free knowledge for everyone from Martin Poulter, with some impressive facts and figures on the scope of the world's fifth most-visited website, including the five pillars of Wikipedia.
Martin was followed at the presentation laptop by Jez who gave a brief summary on quality standards for Wikipedia articles, as well as how articles progress up the scale from stubs right through to featured article status, as well as introducing us to the Wikipedia Bristol Project.
After this, the Academy got down to some practical work, with any new users creating login accounts, setting up user pages and making their first tentative edits with the assistance of the more experienced Wikipedians.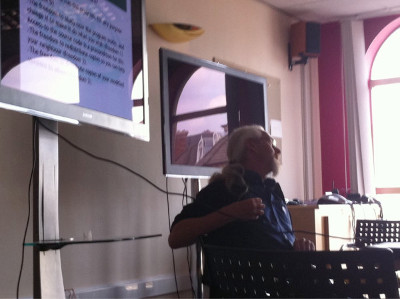 After lunch, the floor was given over to your correspondent, who spoke briefly on the open source and open content aspects of Wikipedia, plus how open source was beneficial to a small organisation such as Bristol Wireless (the dunderhead forgot to mention that open source is also scalable and can be used by organisations of all sizes and types. Ed.).
The afternoon then moved onto examining the some of the concerns of the new contributors. One that stuck in my mind was the one of the vandalism of articles raised by Makala from Knowle West Media Centre.
However, not all that was discussed was negative; some positive elements emerged. These included tentative plans to hold a Knowle West 'editathon' at some future date.
Another positive and very welcome development was the high proportion of women involved; I reckon the male-female ratio was 60:40 – a stark contrast with the general 87:13 ratio for Wikipedia as a whole.
The event was also the first outing – and his first day in the job – for Sam Knight, Bristol University's Wikimedia Outreach Ambassador.
The day was rounded off by Steve Virgin summarising the scope of the work that Bristol has contributed to Wikipedia over the last year or so, as well as reminding us all that Wikipedia is just the most visible part of the work of the Wikimedia Foundation that also embraces Wiktionary, Wikiquote, Wikibooks, Wikisource, Wikispecies, Wikinews, Wikiversity, Wikimedia Commons and MediaWiki (phew! Ed.).
Finally, a couple of acknowledgements: firstly, a big thank-you to the BBC Anchor Trust for their hospitality in hosting the event; and secondly no thanks to BT for the lousy quality of the 'broadband' connection we were trying to use.
Update 07/07/11: further reports of the day have now been posted on the UK Wikimedia blog and Rita Madeira's blog.