Doudoulinux – the right start for children in IT
The other day we heard about Doudoulinux. Leaving aside the rather scatological name of the distro (in English, anyhow. Ed.), it looks rather good at what it's trying to achieve.
Based on Debian – like lots of other fine general-purpose and specialised distros – Doudoulinux is specifically designed for use by children aged between 2 and 12 years. It aims at making computer use as simple and pleasant as possible.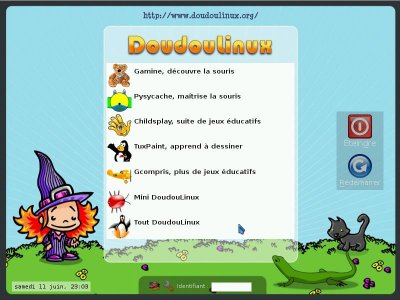 The DoudouLinux project considers that current mainstream consumer computing environments do not suit children because they offer too many functionalities and require far more technical knowledge that children usually have. Consequently, DoudouLinux has built an environment specially for children.
Doudoulinux can either be run as a live CD, off a USB key or installed permanently on a hard drive. The system requirements are fairly modest too: a PC or Mac with a minimum specification of 256 MB memory and an 800 MHz processor, plus a monitor with a display resolution of 800 x 600.
To get the first stable release, codenamed Gondwana, visit the download page.
As this post goes to press, your correspondent is trying to arrange an actual consumer test and review with one of the youngest members of the Bristol Wireless community. 🙂