Wikipedians meet Girl Geeks and eat cake
Last night saw another first in collaborative events in Bristol when Bristol Girl Geeks got together with a bunch of local Wikipedians plus trailblazing female Wikipedian Fiona Apps, who helps Wikimedia UK with outreach work (news passim).
After we'd all got a glass of wine and some nibbles, Fiona was introduced and gave a brief presentation (she's a very good speaker. Ed.), after which a spot of group Wikipedia editing took place, with experienced Wikipedians on hand to assist those who've never edited a wiki before.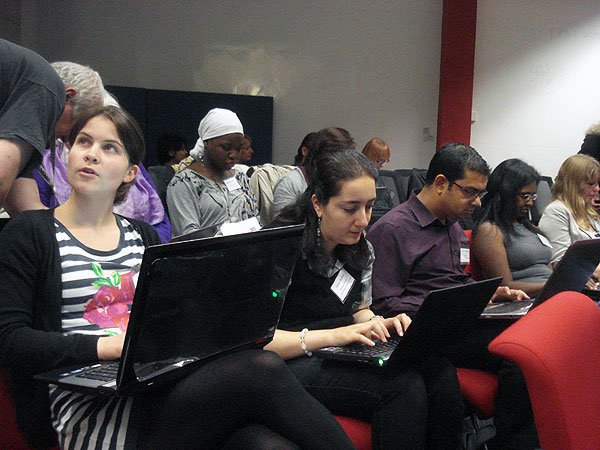 After the practical session, Fiona took to the floor once again with another brief presentation specifically aimed at why women don't edit Wikipedia. Some of the objections/reasons were more applicable to people in general (not just women), but the editing interface came in for some constructive criticism. Other factors likely to put off aspiring editors was the disappointment at having one's edits mercilessly hacked or reverted, to which Fiona responded that engaging other editors via the 'Discussion' tab on the individual wiki page in question could assist in resolving differences of opinion. All in all there was a very lively flow of comments and queries from the audience – a great example of participation. Part of one of Fiona's responses sticks in my mind, to the effect that we all benefit from Wikipedia and contributing to the project in terms of editing articles, fixing typos and the like is only fair in return for the effort of others. I can only remember part of the quotation, but her response ended: "Your pet would use Wikipedia if it could!" 🙂
After the second session from Fiona, the splendid Wikipedia cake was cut, handed round and the networking and socialising took over in earnest, with some random editing still continuing.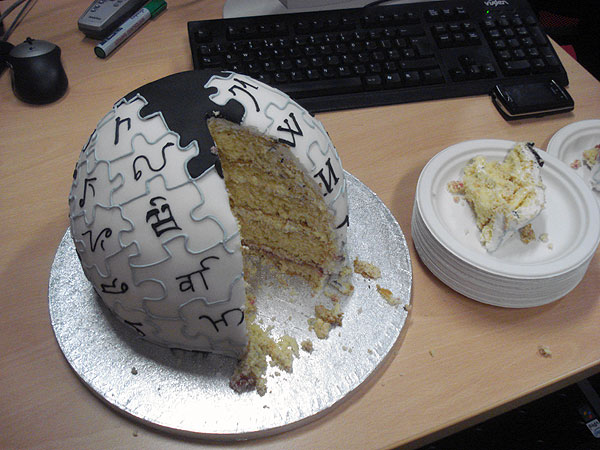 My thanks go out to Bristol Girl Geek Dinners for their kind invitation, the University of Bristol for providing the venue and not forgetting Wikimedia UK for the buffet.
Moves are now afoot to get further joint Girl Geek Dinners and Wikimeet events arranged around the country in coming months. Keep your eyes and ears open and get to the nearest one to you, if you can!