LibreOffice and OpenOffice.org accessibility checker extension released
The H Online reports that developers at Leuven Catholic University in Belgium have released AccessODF, an open source extension for the LibreOffice and OpenOffice.org Writer word processing application. With the extension, Writer users can evaluate and repair accessibility issues in documents, including the open source OpenDocument (ODF) and proprietary DOC and Office Open XML (DOCX) formats.
AccessODF finds issues in documents that make it hard or impossible for visually impaired people to read them, including insufficient text/background colour contrast, missing alternative text for images, missing language identification and the incorrect use of heading styles.
The extension then displays the errors in a panel next to the authoring area, from where they can be repaired at the click of a mouse in some cases. Any remaining problems will have repair/avoidance suggestions suggested.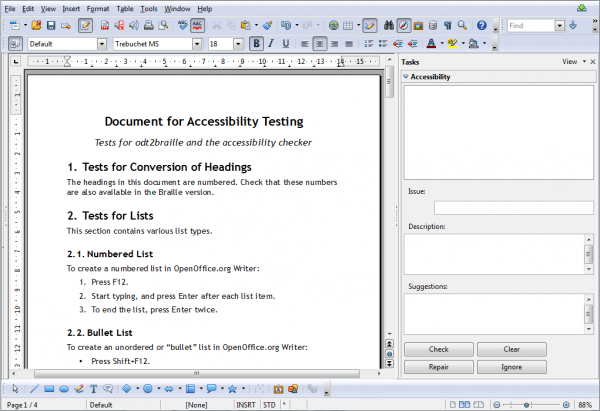 The Belgian developers have also released new versions of the odt2braille and odt2daisy extensions. The new version of the odt2braille extension adds a "Braille" menu to Writer that allows users to convert documents into Braille formats such as .brf or .pef or send the content to Braille printers. It includes support for more languages and Braille embossers, as well as extended formatting settings for professional users.
The update to the odt2daisy extension, which enables the creation of DAISY3 format digital audio books from Writer, has better support for tables, long descriptions, multilingual documents and non-Western languages. The handling of title pages has been improved and it also prevents the use of incorrect bitrates for text-to-speech conversion.