Solar power goes open source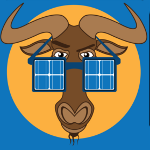 From the heart of Leipzig in Germany, news reaches the lab of the establishment of Open Source Solar, a place for collaborative development of open source hardware for small photovoltaic systems, with the aim of assisting the construction of the highest quality, affordable solar systems.
To quote:
Photovoltaic power supplies are very useful if grid electricity is unavailable, cabling inconvenient, or in emergency situations. We provide a modular system consisting of a Solar panel, microcontroller based Charge controller, and application specific modules for LED lighting and cell-phone charging with a DC-DC converter.
Although the project still appears to be in its infancy, it's probably worth keeping an eye on. The development blog can be consulted at http://dev.opensource-solar.org/.