Wikipedia testing new visual editor
One of the barriers frequently mentioned to getting involved in editing Wikipedia is the clunky editing interface; indeed it has come up at sessions attended by Bristol Wireless volunteers cunningly disguised as Wikipedians (news passim). Your scribe has some vague memory of the topic of the clunky editor even coming up in the course of Jimmy Wales' speech in Bristol last January (news passim).
It's now been revealed that Wikipedia has finally listened to all those who find working with the traditional editor and wiki mark-up a bind: new visual editor for Mediawiki, the free and open software on which Wikipedia runs, is currently being tested.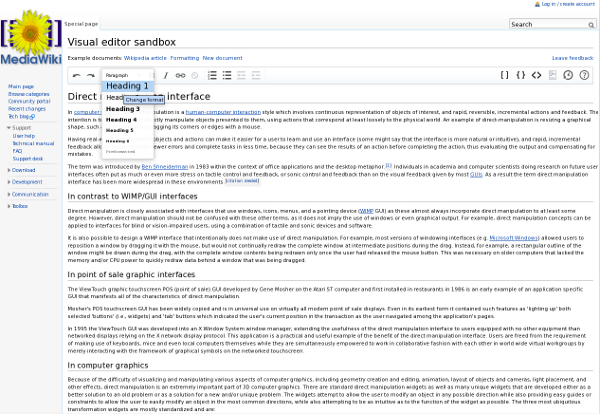 The development of an editor for directly editing formatted Wikipedia articles is a high-priority project that is designed to make it easier for new Wikipedia contributors. Once the visual editor is finished, editors will be able to create and edit articles in both the editor and traditional wiki mark-up language.
In the 10 years since the founding of Wikipedia, users have got used to using graphical editors for a variety of uses. However, the traditional wiki mark-up has remained impenetrable to some, particularly newcomers. "When Wikipedia was created, everything was hard on the internet. We were no harder than anything else. But today most forms of interaction online are easier than editing a wiki article and that creates a barrier to entry that doesn't do anybody any good," says Sue Gardner, the Wikimedia Foundation's executive editor.
In addition to the barriers faced by newcomers, some more IT-literate people, such as web developers and programmers, might also be unwilling to learn a whole new set of mark-up in addition to the tools of their trade.
For the time being, the visual editor is still a developer prototype, but you can sneak a look at the sandbox version.