Open data advocated to EU member states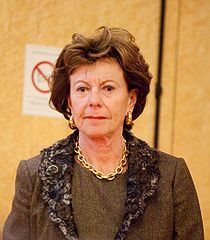 The business section of the BBC website carries an article on freeing up government data within EU Member States for re-use by anyone. This would give rise to a market worth some €40 bn per year, according to the author.
As advocates of open source, along with open standards, we have long believed in open data too and have always looked across the Atlantic to the arrangement in the USA, where it is a long-established principle that any information produced at taxpayers' expense (providing it is not critical for national security. Ed.) can be freely accessed and used by citizens and businesses.
This sentiment is now being echoed by none other than European Commission Vice President Neelie Kroes (pictured), who earlier this week stated:
"Taxpayers have already paid for this information, the least we can do now is give it back to those who want to use it in new ways that help people and create jobs and growth."
Kroes' statement follows on from the open data announcements made by UK Chancellor George Osborne in his recent autumn statement (news passim).
It would appear we and our ideas are now acquiring allies in high places… 🙂