A DFD free gift for politicians
Do you know a certain politician who should really learn more about Open Standards? This is the question that the Free Software Foundation Europe has asked in the last couple of days.
The article goes on to ask readers if they have tried to explain the importance of Open Standards to your boss, friends, local administration or service, but without any results? Would support from the outside world help? If so, inform FSFE's Document Freedom Day (DFD) team about your situation and we will send a free, remarkable gift to your contact to help them learn more about the power of Open Standards.
The remarkable free gift will be a set of handcuffs. As all of we advocates of openness know, when you opt for proprietary software and proprietary formats, you are relinquishing your freedom; here in Bristol Wireless, we use Open Document Format (ODF) for our office suite files. We know we'll be able to read them in 10, 50 or 100 years time, because ODF is a proper international standard format endorsed by the ISO (it's standard ISO/IEC 26300, to be exact. Ed.). If you're using MS Office, will you still be able to do likewise with your .docx and .xlsx files, whose fate is controlled solely by the individual software manufacturer?
Anyway, let's return to the handcuffs. Bristol Wireless has 2 nominees for this unique gift: 1 national politician and 1 local.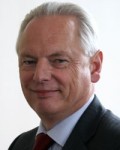 Firstly, we think Minister for the Cabinet Office Francis Maude MP deserves a pair. Francis is in charge of "making government work better." This currently includes the implementation of open source and open standards across Whitehall. This has not exactly been a smooth process (news passim) and there has even been some talk of progress being nobbled by vested interests. So, for general prevarication and dithering, we're pleased to nominate you, Francis; keep on eye on your post at 70 Whitehall, London SW1A 2AS.

Our local nominee is none other than the leader of Bristol City Council, Cllr Barbara Janke. Bristol City Council talks a lot about open source and standards (news passim). However, under Barbara's leadership the council has ditched its open source Star Office suite and moved back to Microsoft Office 2010, just as many of the council's European counterparts are moving the other way from proprietary to free and open source. We're pleased to nominate you too, Barbara, for a fine local effort; we trust your letter from the FSFE will shortly arrive at The Council House, College Green, Bristol BS1 5TR. 😉
Will our nominees receive their handcuffs in time for DFD? Only the FSFE knows. 🙂