Regional supercomputing centre set to revolutionise research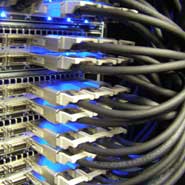 The University of Bristol has announced it has joined forces with the Universities of Oxford, Southampton and University College London to form a Centre for Innovation to share state-of-the-art equipment and world-leading skills, speeding up the rate at which complex data can be processed and will play key role in a new £3.7 million regional centre for supercomputing.
Supercomputers are seen as the "third pillar" of modern research and are used in fields as diverse as quantum physics, weather forecasting, climate research, oil and gas exploration, molecular modelling, finance, engineering and manufacturing.
The award for the Centre of Innovation marks the first significant activity for the e-Infrastructure South Consortium formed by the four universities in 2011 with the aim of exploring and exploiting opportunities for sharing of hardware platforms, applications software, user support services and skills – known as research e-infrastructure – across the four institutions to tackle scientific and industrial research challenges.
The University of Bristol's existing supercomputer, a £7 million Linux machine called BlueCrystal, was introduced in 2008 and is used by more than 600 of the university's researchers