Monmouthpedia official launch this Saturday
Ahead of New York, Moscow, Paris, Rome, Beijing and Berlin, the global digital age reaches a new landmark this weekend as Monmouth, Wales officially becomes the world's first Wikipedia town on 19 May.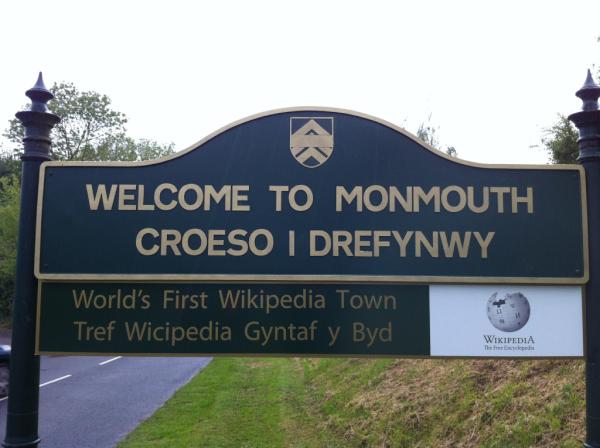 This world-first in information sharing will provide instant multilingual access to Wikipedia pages for smartphone users through QRpedia codes. Wikimedia UK, the charitable body that promotes Wikipedia and other wiki projects in the UK, has been working in partnership over the past 6 months with the town of Monmouth and Monmouthshire County Council on the project, known as Monmouthpedia.
The Monmouthpedia project creates multilingual versions of Wikipedia pages, about every notable place, person, artefact, flora, fauna in the town of Monmouth and makes them instantly accessible to smartphone users in the town through the installation of QRpedia codes in key locations. The clever part is that QRpedia codes display the content in the user's own language. So, if someone from France whose device is set to work in French scans a code, the Wikipedia content will display in French. The same applies to any language that has related content on Wikipedia.
Roger Bamkin, a Director of Wikimedia UK and co-creator of QRpedia,said: "We're delighted that Monmouth is becoming the world's first Wikipedia town. Both the quality and quantity of the new Monmouth Wikipedia content is outstanding, reflecting the rich cultural, historical and natural heritage of the town. At last foreign visitors cannot only read information in their own language, but they can edit it too."
The project has galvanised the local community of residents, businesses and volunteers who have teamed up with the Wikipedia community to create hundreds of new articles about Monmouth in 25 different languages, as well as improving hundreds of others and according to Wikimedia UK, helps to make this a truly global project as well as a very local one. With the focus on collaboration, many of those contributors taking part have never been to Monmouth, or even the UK. For instance, one Russian Wikipedian has so far turned out over 200 articles on the town in Russian.
Becoming the world's first Wikipedia town has attracted numerous benefits for Monmouth, including a boost to both local tourism and business alike (one of which might just mean fewer dead tree tourism leaflets printed. Ed.).
Finally, the whole town has free wifi coverage. Well done Monmouth! 🙂