Registration opens for CiviCon London 2012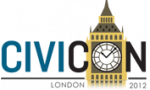 CivivCon 2012, this year's conference for CiviCRM users, takes place in London on September 19th.
CiviCon brings together users and developers of CiviCRM to find out about the latest developments in CiviCRM and help steer the future of this open source CRM. It is a great opportunity to learn, share, network and get more involved in the community.
Early bird registration has also now opened for the event, with places going for £65.