CiviCon London 2012 – a reminder and an update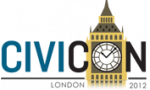 We've already blogged about registration opening for CiviCon London 2012 – the forthcoming conference for users and developers of CiviCRM (news passim), the open source customer relationship management system (as used by Bristol Wireless. Ed.).
Our old mate Sean Kenny recently blogged about it too, publicising it via Tiwtter earlier today.
civicrm.org/blogs/seank/ci… CiviCon2012 London blog post – sign up now

— sean kenny (@seankenny) July 24, 2012
Sean's blog post referred to in the tweet is reproduced below.
Here in the UK we're busying ourselves with organising our second CiviCRM conference, at Westminster Hub on the 19th September. You can read lots more about it here – http://london2012.civicrm.org, and book early to benefit from the Early bird discounts now available!

CiviCon is the annual CiviCRM event bringing together the people who develop, design, implement, administer, and use CiviCRM.

We've already recruited many great speakers, developed breakout sessions and panels highlighting real-world examples of nonprofits growing and sustaining relationships using CiviCRM. Plus we've booked a great venue in the heart of London, and begun to promote the event to everybody we think it will be useful to

We're having weekly meetings on IRC to continue developing the most interesting and enjoyable conference held to date, and are still looking for more sponsors, sessions and ideas from the community to engage with on the day – after all it's your conference.

We're also looking to all our users and supporters to help us promote the event either through Twitter or Linked in (http://linkd.in/NZoU99) or whatever media you prefer. Need help with that? Comment below and we'll get back to you.
Either ignore Sean's last 2 sentences, or comment below and we'll pass it on to him. 🙂
Update 26/07/12: Circle Interactive, for whom Sean works, have also blogged today about their involvement with CiviCon London 2012.