Wicipedia Cymru, the world's largest Welsh language site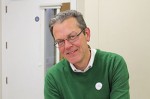 When he was over in Wales recently for Monmouthpedia (news passim), the chief scribe had the good fortune to meet Robin Owain, a stalwart of Wicipedia Cymru, the Welsh language version of Wikipedia, the world's largest open source project.
Wicipedia Cymru has a pool of some 200 editors who between them have now amassed (and maintain) some 36,000 Welsh language articles. This makes Wicipedia Cymru the world's largest Welsh language website. It also has a very respectable number of visitors – 2.7 million per month (we could do with that! Ed.).
For the latest Welsh developments, see the Wikimedia UK blog.