GNU Press now selling GNU/Linux Inside stickers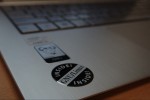 The Free Software Foundation (FSF) blog reports that the GNU/Linux Inside sticker pack is now being sold.
The stickers are high-quality and durable; they won't fade away or scratch off your computer, making it the ideal way to advocate your use of free software! They are perfect for replacing those *other* stickers that may come on laptops when they are purchased. For $15, purchasers will receive 10 GNU/Linux stickers.
Purchasing the stickers will help the FSF reach its Winter fundraising goal of $350k by 31st January.
Hat tip: Dr Roy Schestowitz