2 TBit/s over Vodafone's German backbone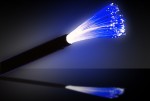 While the UK government is content with ensuring UK 'broadband' customers are guaranteed a modest 2 MB/s over their domestic connections, news arrives of blistering data transmission rates being achieved in Germany.
IT news site Heise Online reports today that the Chinese network technology group Huawei and the ISP Vodafone have been able to transmit 2 terabits per second over a distance of 3,325 km in a field trial over a circular section of the network in central and southern Germany using Vodafone's existing backbone network. This was reported yesterday by Huawei, who said it "marks an important step forward for optical transport technology advances beyond 100G".
This provides a data highway capacity 20-times higher than current commercially deployed 100Gbit/s systems and has a speed equivalent to downloading 40 HD videos in one second.
There's one thing that can be said for definite about this achievement by Huawei and Vodafone: it does leave the UK government's ambitions for equipping the UK with "the best broadband in Europe" (© HM Government. Ed.) looking somewhat hollow and the UK's current 'superfast' broadband of 40 Mbit/s distinctly mediocre.