Snooper's Charter: Whitehall to be twinned with Pyongyang?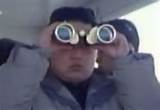 Ben Hammersley, an adviser to 10 Downing Street on the Tech City (aka Silicon Roundabout. Ed.) project, has emerged as the latest critic of the government's proposed Communciations Data Bill or Snooper's Charter (news passim).
Speaking to the Daily Telegraph, Hammersley is quoted today as saying:
As a society, it would be stupid to build the infrastructure that could be used to oppress us. It just never works out well, because even if you're using it for good stuff now, the fact that we don't know who is going to be in charge in ten years' time means that we shouldn't give them free toys to play with.
In a previous podcast, Ben Hammersley is also on record as comparing the government's plans to the situation in North Korea:
They are quite open about the fact that they want to have records of everybody's online communications. I advise the Government on stuff and my advice was laughing at them quite hard for about an hour and then writing a policy paper which told them it was nonsense.

The idea that the internet is like the postal service or like the copper line phone network in that it can be monitored in such a way is hilarious, because it can't be technologically speaking, unless you become North Korea. Unless you become massively draconian you can't either monitor propery or censor completely the internet.
Big Brother Watch, Liberty, the Open Rights Group and Privacy International have also written jointly to Home Secretary Theresa May protesting that they've not been properly consulted, saying: "We remain concerned that the legislative process continues to be conducted within an unnecessarily closed process." This reflects Bristol Wireless' own experience when we asked to be consulted on the Bill (news passim).
In the Home Secretary's own party, Dominic Raab MP has also described the Bill as 'irresponsible'.
We would urge the Home Secretary to listen to the government's critics on this matter – something which British governments are not particularly renowned for doing on any matter.