eBay to offer free wifi this summer on French beaches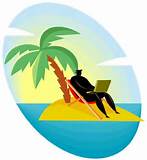 French computing news site Le Monde Informatique reports that online tat merchants eBay will be organising a tour of French beaches from 22nd July to 17th August 2013, during which holidaymakers will be able to benefit from free wifi, as well as a space dedicated to this well-known auction site.
On each of the tour beaches the presence of the eBay Hotspot Tour will be apparent from the setting up of a relaxation area and the presence of ambassadors. These easily recognisable eBay Watchers will enable wifi connection to the internet by scanning the QR code printed on their T-shirts.
In addition, anyone visiting the official eBay Hotspot Tour tent with the eBay app on their mobile will be able to try and win €100 shopping money. Nevertheless, all holidaymakers will be able to benefit from this area to get online via several tablet computers, discover the latest functionality offers by eBay and win "goodies".
The eBay Hotspot Tour will start on the beaches of the Côte d'Azur (aka the French Riviera. Ed.) before swinging round to the coast of the Basque country then travelling up the Atlantic coast as far as the Loire-Atlantique department.