Bristol University's Martin Poulter appointed Jisc-Wikimedia Ambassador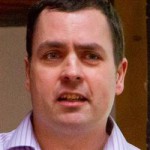 Dr Martin Poulter, Senior Web Developer for Bristol University's Economics Network and New Media Manager for the Children of the 90s project, has been appointed Jisc-Wikimedia Ambassador to facilitate a project to bring the academic world and Wikipedia closer together.
Based at the University of Bristol, this joint project between UK education charity Jisc, which champions the use of digital technologies for education and research, and Wikimedia UK will create opportunities for researchers, educators, and the general public to contribute to the world's freely available knowledge. The hope is both to help demystify Wikipedia to people who work in higher education, and also and also improve Wikipedia and its sister sites such as Wikisource and Wikimedia Commons.
Dr Poulter, who is both a Wikipedia editor and a professional creator of educational materials in the University, was supported in his bid for the post by the University's Faculty of Social Sciences and Law. Besides undertaking outreach work to encourage understanding and development of Wikimedia projects within the education sector, Dr Poulter will be delivering training to projects supported by Jisc and creating public events such as Wikipedia edit-a-thons.
Martin Poulter said: "I'm delighted to be working with both Jisc and Wikimedia UK on this exciting new project. And Bristol is an obvious choice to base the project. Two years ago the University hosted Jimmy Wales's public talk to mark Wikipedia's tenth anniversary, and we have a long history of hosting successful Jisc-funded projects."
The appointment will run until March 2014.