UWE supplies recycled PCs for internet cafés in Africa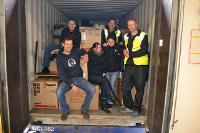 Bristol's University of the West of England (UWE) has announced that a shipment of refurbished computers and office furniture has just arrived in Togo after an eight week voyage. The recycled equipment was refurbished by UWE student volunteers.
The equipment is now being installed in 2 internet cafés in Lomé, the Togolese capital. Both internet cafés will be open to the public, although some time will be set aside each week for special user groups, such as orphanage children, who will receive computer training, and micro-finance clients. In addition, The cafés will provide a learning and employment opportunity for local people and aim to be profitable in about a year, earning income from providing internet access, printing and copying services.
Jo Earl, from UWE Volunteering, co-ordinated students from UWE's Department of Computer Science & Creative Technologies to make the computers ready for use.
"Four volunteers worked as a team to assess the donated equipment, install operating systems and additional software. In total 84 PCs were shipped and the students worked really hard on a complex and time-consuming task," said Jo.
"After refurbishing the computers, our next big task was shipping the PCs from Frenchay campus," continued Jo, who worked with UWE facilities manager Richard Bird on packing and loading the computers, printers, desks and chairs into a shipping container.