New university supercomputer puts Bristol at forefront of research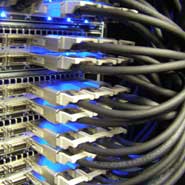 The University of Bristol has announced that its research is being revolutionsied by one of the fastest and most advanced supercomputing facilities in the UK, capable of over 200 trillion calculations per second.
A £2 million investment has increased the capability and power of the University's state-of-the-art BlueCrystal High Performance Computer (HPC) facility, which allows over 650 researchers and students to process vast amounts of complex data at record speeds.
Supercomputers are regarded as the 'third pillar' of modern research and within the University are used in areas such as climate research, earth science, drug discovery, mathematics, physics, molecular modelling and aerospace engineering.
The University has invested £12 million in its Advanced Computing facilities since 2006, making it one of the UK's leading supercomputing centres.
The latest BlueCrystal system will be five times as powerful as its predecessor and the upgrade is a result of a collaboration with ClusterVision and Dell.
Dr. Ian Stewart, Director of Bristol University's Advanced Computing Research Centre, said: "This new machine underscores the far-sighted commitment to HPC by the University and reinforces Bristol's position as one of the leading centres for HPC in the UK.
"It will provide the robust, scalable and innovative platform required to meet the diverse interests and requirements of our world class research community. Having a supercomputer of this size contributes significantly to University research income and will play an increasingly important role in teaching."
Major users include climatologists in the Social and Community Medicine, with the globally recognised Children of the 90s long-term health research project increasingly needing to analyse vast quantities of data collected from the 14,000 mothers enrolled during pregnancy in 1991 and 1992 and their resulting families.
It's hoped that the new supercomputer will be a resource for the whole city, with opportunities for small businesses and schools to have access.
Furthermore, the University has been working alongside its partners to offer new opportunities to students, plugging the current skills gap in HPC through internships, placements, sponsorship and guest lectures.
ClusterVision has supplied, delivered and installed the Dell-based system with other elements supplied by a variety of vendors including Bright Computing, Intel, Panasas and Allinea.
BlueCrystal is believed to be running Linux, just like some 90% of the world's other supercomputers.