'Superfast' broadband arrives in parts of Staffordshire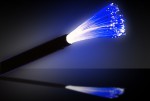 Today's Stoke Sentinel reports that faster internet speeds can be expected today in parts of Staffordshire.
However, the Sentinel's piece does not mention any expected connection speeds. 🙁
The localities concerned are parts of Kidsgrove, Werrington, Stone and Blackshaw Moor, which have been connected to the fibre network following a link-up between Staffordshire County Council and BT under the government's Broadband Delivery UK programme.
Spokesmen for the bodies concerned praised the development for offering increased opportunities.