Make an origami unicorn and win an Ubuntu Phone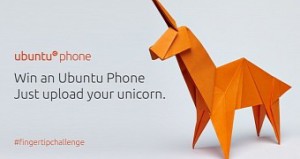 An Origami Unicorn Challenge has been announced by the Ubuntu Insights website.
Origami has long been associated with good fortune and represents the visual style for the Ubuntu Phone and Ubuntu is inviting people to create their own Origami Unicorn for the chance to win an Ubuntu Phone.
The stages to participate include:
Create a Unicorn Origami form from a single sheet of paper
Take a photo of your custom creation
Upload to instagram with the hashtag #fingertipchallenge
Ubuntu has also provided a guide to making an origami unicorn (PDF). The most number of likes on Instagram wins an Ubuntu Phone.