Another Microsoft open source release
Microsoft, purveyor of insecure proprietary operating systems and annoying, overpriced office suites, has not always had an easy relationship with the concept of open source.
Indeed, its first forays into the field were taken reluctantly since it was ordered by the European Commission to disclose interoperability information to third parties under an unfair competition ruling . Under this 2008 ruling the company was fined €899 mn. for failure to comply with a 2004 competition ruling.
In recent years the company has made some major contributions to the development of open source software, such as its contributions in 2011 to the Samba project.
More recently, the core of .NET has been released as open source and is now available on GitHub.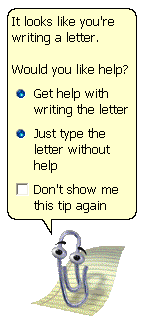 It has been learnt today that another open source release – and it's an unusual one: the Microsoft Office Assistant. Better known as Clippy (or even Clippit. Ed.). Clippy was included in Microsoft Office for Windows from versions 97 to 2003 inclusive, in Microsoft Publisher from versions 98 to 2003 and Microsoft Office for Mac from versions 98 to 2004.
Clippy has been heavily mocked in popular culture, being parodied and even being made fun of by Microsoft themselves from 2001 onwards.
The Office Assistant used technology initially from Microsoft's curious Bob GUI and later Microsoft Agent, offering advice based on Bayesian algorithms.
Click here for more details of the release of Clippy as open source.